You are invited to attend an American College of Gastroenterology International Webinar, which is hosted by the South African Gastroenterology Society.

Title: Clinical Pearls for the Management of Pregnancy in IBD
Date: Tuesday, August 31
Time: 6pm-7pm
Speaker: Professor Sunanda V. Kane MSPH, FACG
Moderator: Professor Gillian Watermeyer
Registration Link: https://attendee.gotowebinar.com/register/2001650337739911694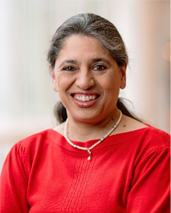 Professor Sunanda Kane

Sunanda Kane, MD, MSPH, FACG is Professor of Medicine at Mayo Clinic in Rochester, MN. She has expertise in the field of inflammatory bowel diseases, where she is engaged in patient care, research, and education at the level of the medical school, residency, and fellowship. She is currently the Assistant Chair of Patient Safety and Experience within the Division of Gastroenterology and Hepatology, where she is responsible for quality improvement within the clinical and inpatient hospital services, issues regarding patient safety, and patient satisfaction. In addition, she is the Chair of the Quality Fellowship Program Subcommittee within the Mayo Clinic Quality Academy. She is active on many national committees and organizations, including the Board of Trustees of the ACG as an Officer and previously on the Patient Education Committee of the Crohn's and Colitis Foundation of America. In addition, she has served on multiple editorial boards, including as the first female Associate Editor for Alimentary Pharmacology and Therapeutics and Section Editor for IBD for UptoDate. Included in her bibliography is a Pocket Guide to IBD and two editions of her book on the self-management of IBD for patients.